A few weeks ago I started selling felt sample packs and they have been

very

popular. In the last 10 days I have sold nearly 50 packs! So a big thank you to my customers for keeping me busy.
Today I wanted to make up a big batch of the packs so that I have got plenty in stock ready to send out when an order is placed.
I have cut lots of squares ...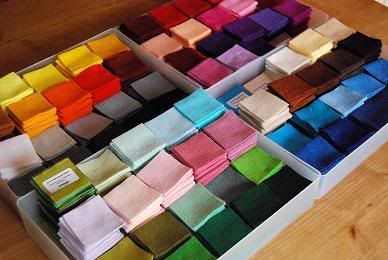 Printed lots of stickers ...
put a label on each piece ...
Finally, they end up like this ...
I would love to be able to send these packs out free to everyone who asks but I have to charge because they take time to put together.
The 2" samples are also available individually.